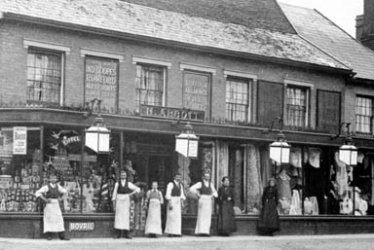 History of Henry Abbott
In the turbulent year of 1650, a certain Thomas Abbott the elder moved with his family from Hadleigh to Debenham. These were dangerous times, because Oliver Cromwell's army had recently taken control of the country replacing the monarchy with the short-lived Commonwealth. However, like Cromwell, the Abbott family were supporters of the Independent Church and may possibly have flourished at this time as a result.
Thomas purchased the Green Dragon Inn at Debenham where he and his sons set up business as a cordwainers, working with Cordova leather. By 1707, they were able to purchase and expand into another block of cottages to found a business, which has been run by members of the Abbott family ever since.
The business was carried on by his son Jeremiah and then by his grandson Thomas followed by his great grandson William, who at the time of his marriage to Margaret Lockwood in 1747, was registered as 'tailor and draper'. It was William's son John who established the grocery business. John Abbott was a grocer and draper in the same premises for 50 years.
John and his wife Mary (Nee Arnold) were quite a couple. They had 23 children and, in spite of all these mouths to feed, Mary set up soup kitchens to help with the famine at the time of the Napoleonic wars. Mary lived to the age of 85 and five of her children lived to be over 90.
Henry Abbott, the 15th surviving son of John and Mary, continued the business of grocer and draper and passed it on to his eldest son, another Henry, around 1870. This Henry married Sophie Annie Watson, who was related to the Watson's of Rockingham Castle. She smartened-up the business premises and introduced a uniform for the sales assistants as shown in the photograph taken around 1880.
Henry and Sophie's son Henry Duncan Abbott ran the business, which by this time included stores in Pettaugh, Chelmondiston and elsewhere. He brought up his eight children in the house adjoining the original shop premises. When Henry Duncan Abbott died in 1949, the business was purchased by his son-in-law Arthur Turner (husband of Henry Duncan's daughter Eileen). During the next fifty years, the business supported up to ten members of the family. In 2001, like so many family businesses, the original Henry Abbott Ltd. was broken up and sold to the Co-op marking the end of a long and successful era.
Arthur and Eileen's son Barry Turner, who built the modern 'Eucomarket' in the 1970s, decided to carry on the family tradition first with Abbott's Hardware store (in the original premises) followed by Abbott's Houseware store in the High Street, which he now runs together with his wife Christine and their family.